Vice-President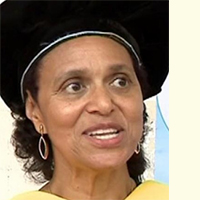 Prof. Fagilde holds a Doctoral degree in mathematics education and was the first woman in Mozambique do get the highest distinction in a university. As a result, her biography was published in the Book, "Inspiring Stories from Africa" (2017) by Network from African Science Academies.
She has been teaching and lecturing pure mathematics, mathematics education and education in general for more than forty years. She worked as a staff of the Pedagogical University of Maputo, serving in various capacities namely; advisor to the Rector (vice-Chancellor) for cooperation and institutional development, director – international relations, director – centre for post-graduate studies, dean of science, director – faculty of natural sciences and mathematics. Prof. Fagilde also worked at the Apolitecnica University as the deputy to the vice-rector, president of the directive commission of higher school of management and technology, and advisor to the director of the higher school of management, science and technology. At the ministry of science and technology she was the advisor to the minister, the national coordinator of the program for creating the Mozambican scientist of tomorrow and also the national director for secondary education.
Furthermore, she was a government representative for the Ministry of Education, at University Council of Eduardo Mondlane University and at Maputo international school. She has served as a jury member and peer reviewer in various forums namely; projects of Investment Climate Business Environment (ICBE) Research Fund, the international Olympiad of biology in Latvia and the African Journal of Research in Mathematics, Science and Technology Education (AJRMSTE). Her academic publications include; research papers, books, articles and supervising master and doctoral thesis in the field of Mathematics Education and General Education. She is an honorary council member of the African Athletics Confederation (AAC), vice-president of athletics southern region where she practiced athletics, basketball and volleyball, and used to be the president of Mozambican athletics federation.