The International Webinar on the Effective use of Information and Communication Technology (ICT) in Learning to Advance STEM Education in Africa
The International Webinar on the Effective use of Information and Communication Technology (ICT) in Learning to Advance STEM Education in Africa
By Mary W. Sichangi, Coordinator, Partnerships and Linkages, CEMASTEA
The Centre for Mathematics, Science and Technology Education in Africa (CEMASTEA) n partnership with PhET-Colorado University successfully implemented an International Webinar on the effective use of Information and Communication Technology (ICT) in learning to advance STEM education in Africa. The International Webinar which took place from 4th to 6th April, 2023 is an annual forum organized in the spirit of the Centre's mission; "continuous development of competencies for sustainable development through Science, Technology, Engineering, and Mathematics (STEM) education".  Whereas technologies are a great resource, effective utilization remains a great challenge in STEM education in classrooms in Africa (ADEA 2021). Educators' capacity to innovatively employ ICT resources to deliver STEM education need to be enhanced through sessions that demonstrate viability and improved perceptions to achieve frequent use.
The three-day webinar aimed at developing capacity of directors of STEM education, school principals, head teachers, teacher trainers, heads of departments and teachers of STEM subjects to identify and integrate digital tools in STEM education. The forum attracted over 120 participants drawn from the following countries; Eswatini, Ghana, The Gambia, Nigeria, South Sudan, Tanzania, Senegal, Tanzania, Sengal, South Africa and Kenya. The event was officially opened on 5th April, 2023 by the Director General, Ministry of Education (MoE); Dr. Elyas Abdi, OGW, who was represented by Mr. Hassan Duale, Director Field Coordination and Co-Curricular Activities MOE, Kenya.
In his opening remarks, the chief guest stated that Sustainable Development Goal 4 emphasizes the importance of equipping the youth and adults with technical and vocational skills relevant to employment, decent jobs, and entrepreneurship. Mr. Duale stated that the theme and content of the webinar is timely and relevant because STEM related skills such as, scientific literacy, 21st century skills, innovation and technology are crucial for the success of Africa. The closing ceremony was graced by the Chief Executive Officer, CEMASTEA; Mrs. Jacinta Akatsa HSC who congratulated the participants for successfully completing the three-day International Webinar. She urged the participants to implement the lessons learned in respective countries in order to enhance learning and develop computational thinkers capable of creating, innovating, and solving problems for sustainable development.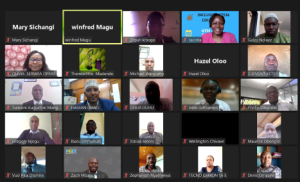 Participants during the opening ceremony of The International Webinar held on 5th April, 2023