STEM-Based innovations and exhibitions during COMSTEDA-17 held in kenya
In the words of Theodore Von Karman, "A scientist studies what is, an engineer creates what never was." Science, Technology, Engineering and Mathematics (STEM) education and innovations is an inter-disciplinary approach to preparing learners for the world of work and life towards socio-economic development. African countries continue to encourage learners to engage in STEM-based innovations and some samples were exhibited during the 17th Conference on Mathematics, Science and Technology Education in Africa (COMSTEDA 17). During the conference a total of 50 displays, exhibitions and innovations sampled from CEMASTEA, Kenya Science Engineering Fair (KSEF) students and Entrepreneurial/NGO exhibitors were presented. Approximately 250 participants visited the innovation rooms and the exhibition area.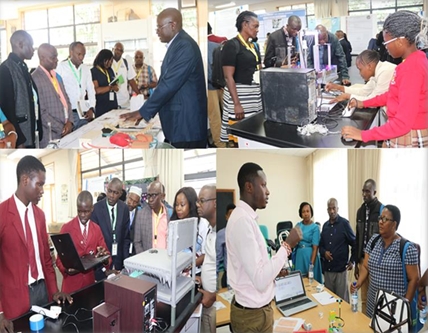 The innovations showcased the strides that African countries continue to make towards promoting STEM education and innovation. The student presenters had great communication skills, they articulately connected the content as learnt in class to their projects. The integration of ICT in projects added value to their presentations. Learners demonstrated grasp of STEM subjects as multi-disciplinary or interdisciplinary with relationship of concepts in various STEM subjects in one project. Learners demonstrated awareness of existing societal problems and how they drive innovations that provide solutions.
The exhibitors were encouraged and challenged to think beyond the classroom and incorporate global skills into their projects and turn them into commercial ventures. Learners were encouraged to publish their works in order to protect intellectual property rights beyond the exhibition fair.