COMSTEDA 17 Held in Kenya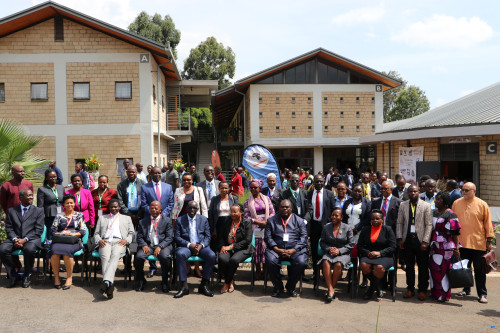 The 17th Conference for Mathematics, Science and Technology Education in Africa [COMSTEDA 17] and, Annual SMASE Africa Delegates meeting was held at CEMASTEA, Nairobi, Kenya in December, 16th – 20th 2019. The theme of the conference was, "Teacher Professional Development in Africa: Knowledge, Skills, Values & Attitudes in STEM Learning Environments." 271 delegates attended all drawn from 12 countries namely; Kenya, Botswana, Namibia, Malawi, Nigeria, South Africa, Uganda, Zambia, Mozambique, Niger, Tanzania, and Malawi. Three ministers of education; Hon Dr. John Chrysostom Muyingo, Minister of Higher Education, Uganda; Hon Makwinja Tebogo, Assistant Minister of Basic Education – Botswana; Hon. David Mabumba, Minister of General Education – Zambia attended the forum. Other organizations represented in the conference were; African Union Commission Head Quarters – Ethiopia, Siemens Stifftung – Kenya, Coalition of Concerned Teachers – Ghana, Education department of the Ministry of Defence Army – Nigeria, Snaplify, Allan and Gill Philanthropy, Sci-Bono Discovery Centre – South Africa, Science Equipment Production Unit – Kenya, AFEW – Kenya, Public and Private Universities, Global Minimum, Global Peace Foundation – Kenya, and Shule Direct – Tanzania.
The opening ceremony was graced by the Minister of Education, Kenya represented by Dr. Belio R. Kipsang, the Principal Secretary, Early learning and Basic Education. In his opening remarks, he reiterated the importance of STEM education in enhancing national development. He noted that the conference provided an excellent opportunity for sharing practical and evidence-based research outcomes, and best practices. He said that STEM-based innovations control social-economic status and Africa is in the process of adopting it. He challenged delegates to equip young people in STEM education because it will ensure that they become job creators.
The keynote speakers were slotted for each of the conference days as follows:
Muavia Gallie – School Turn around Foundation, South Africa, on the topic: "Re-engineering approaches in education systems and schools: Towards Model STEM Schools".
Prof Genevieve Wanjala – University of Nairobi, Kenya, on the topic: "STEM Education in Africa – Professional Experience"
Purity Ngina – Strathmore University, Kenya on the topic; "STEM Education: Professional experiences".
COMSTEDA 17 provided an opportunity for delegates to discuss various aspects of STEM education under the five strands below:
Strand 1: Teacher Professional Development in Africa: Developing Knowledge, Skills, and Values in STEM learning/teaching engagements
Strand 2: Role of Professional Associations in STEM Teaching and Learning
Strand 3: School Culture and Learning in STEM
Strand 4: STEM Curriculum Development, Implementation and Assessment
Strand 5: ICT Integration in STEM Education
A total of one hundred and twenty-five (125) papers were reviewed and accepted for inclusion in the conference proceedings. The papers were of high quality and scholarly presented. Out of these, over fifty papers were presented at the forum. It was evident that more studies need to be done on strand two, the role of Professional Associations in STEM Teaching and Learning which attracted only two papers. Strand one recorded the largest number of papers presented in the forum.
A total of 50 displays were exhibited drawn from CEMASTEA, Kenya Science Engineering Fair (KSEF) students, and external Entrepreneurial Exhibitors. The participants interacted with exhibitors in quest for each innovation insights. Approximately 300 participants visited the innovation rooms.  The participants were provided with guidelines on how to engage the STEM exhibitions.  Besides these observations, there were specific reports from each country on how each country organizes STEM fairs. Kenya reported that Kenya Science and Engineering Fair (KSEF) is mandated by the Ministry of Education (MoE) to organize science fairs from zonal, through to regional culminating at National level. Zambia reported that science fairs for the junior categories are implemented to ensure that STEM and ICT integration is registered during the competition. Namibia reported that science fair begins at grade 8 and the students are encouraged to incorporate global skills into projects aimed at challenging learners thinking beyond the classroom. Malawi reported that they have science fairs that are organized by the MoE. However, the main challenge to all these innovations is education systems that are focused on examination results as a determinant of success which puts to question on whether STEM-based innovations are being inculcated.